What Does Prosthodontics Treatment Entail?

Prosthodontic dentistry in Sydney is a subspecialty that deals with reconstructive dentistry. A prosthodontist is a dentist who has gone through extensive cosmetic training to become certified within their subspecialty.
Some of the main cosmetic prosthodontic procedures involve:
Replacing missing teeth
Restoring the natural beauty of teeth
Whitening teeth
Dental veneers
Dental crowns
Dental bridges
Prosthodontists understand the essence of a natural smile, and so they work hard to help produce an aesthetically pleasing smile. The main aim of prosthodontics treatment is not to give you a Hollywood-worthy smile, but to create a smile that looks good on you.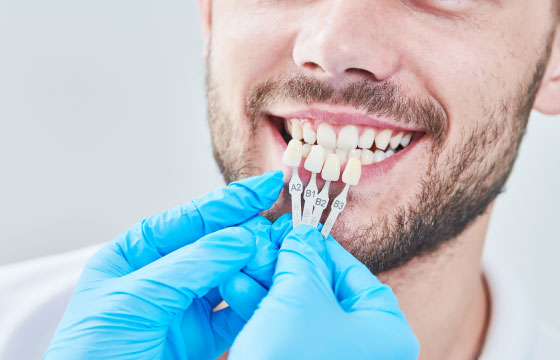 What Are The Benefits Of Prosthodontics Treatment?
Cosmetic dental treatments are not meant to be superficial in nature. Instead, they are able to help enhance your natural look and give you that sense of confidence you never knew you could have. Although we mainly look at cosmetic dentistry in terms of appearance, you'd be surprised at the many benefits prosthodontics treatment can bring:
Improved aesthetic appearance – makes you feel better about yourself, gives you that wonderful smile, and a second chance at a good first impression.
Improved diet – Having your teeth cosmetically enhanced can help encourage you to maintain a healthier diet in order to prevent any further damage
Improved financial outlook – Although initial treatments are not free, if they are to significantly improve your dental health and oral care, then you may be inclined to less frequent visits to the dentist


Our teeth whitening services are guaranteed
to leave you happy and wanting to smile more.
By using state-of-the-art equipment we can restore your smile to its natural beauty by applying new techniques to provide dental veneers and crowns.


We use innovative and comprehensive approaches to treatment in order to ensure that all of our professional prosthodontic specialists give you that personalized care.
With 100% customer satisfaction, you can rest assured knowing that you will walk out of our clinic with a brand new smile.
What Is The Cost Of A Visit To The Prosthodontist in Syndey?
Most dental practices in Australia are free to set their own rules regarding payments. As there is no specific prosthodontic treatment cost, Sydney patients may end up browsing around to find the best quote.
At Sky Beauty Cosmetic Clinic we offer only the most competitive costs, and guarantee to price match any quotes you may have received, providing that the treatment plans are exactly the same.
We also offer a flexible payment plan to allow you to pay for your dental treatment at a more convenient rate.

If you have some questions, why not check out the section below and see if we can answer them for you!
At our clinic, we only use the best and newest equipment to ensure that your treatment is as efficient as possible. We use high-strength porcelain and non-allergic dental alloys to create strong bridges, crowns, and more.
At the Sky Beauty Cosmetic Clinic, we offer a host of different prosthodontist treatments such as dental implant restoration, full and partial dentures, crowns, bridges, veneers, teeth whitening, and many more! Have a consultation with us today to find out the best treatment options for you!
All private health insurance policies cover prosthodontic treatments to a certain extent depending on your level of policy. If you have any concerns, you should contact your health insurance provider for a full breakdown.