Orthodontics is a branch of density that requires a dentist to undergo extensive training in order to be certified as a specialist orthodontist from the Australian Society of Orthodontists. Orthodontic treatment is about improving the harmony between your teeth and your jaw whilst making the best of your teeth.
As of recently, more and more Sydney adults are getting braces to help improve not only their aesthetic smile but also to improve general dental hygiene. Here at Sky Beauty Cosmetic Clinic, we have some of the best orthodontics treatments in Sydney at competitive pricing.
So come on in today for your consultation to discover how we can give you back that beautiful smile.
Orthodontic treatment can provide an array of benefits, such as:
Removal of dental crowding – if your teeth are too close together and cause a pushed-back look
Alignment of your upper and lower teeth – give you a straighter, more uniform smile
Help correct complications resulting from an underbite
Enhancing facial aesthetics
Accommodate any impacted teeth
Prepare you for any advanced dental treatments that may be needed
Types of Orthodontic
Treatment in Sydney
There are various types of orthodontic treatments available, each of which has its own specific function and can be tailored to the individual.
The main orthodontic appliances are:
Fixed metal braces – These bracers are made from a metallic mesh and brackets that are glued to the front of your teeth. Over time, these metal bracers help put your teeth back into position.
Removable braces – These involve a plastic plate that covers the roof of your mouth and a metallic clip that holds onto your teeth, restricting movement.
Functional braces – These braces are removable and are joined together to help improve teeth alignment in both your upper and lower teeth.
Retainers – These are usually used after your course of orthodontic treatment following the appropriate appliance, and are worn at night. They help hold your teeth straight as your gums get used to your new teeth' alignment.
Invisalign – Invisalign works as an alternative to visible metallic braces, allowing you to transform your smile discreetly.

How Does Orthodontic Treatment Work?

Dental braces are used to correct overcrowded or crooked teeth by exerting constant pressure for an extended period of time.
Getting the right braces for you put on does not hurt, but is a timely procedure as it can take 1-2 hours.
Firstly, your orthodontist will clean your teeth, steel or ceramic brackets are glued to the front of them. This may be slightly uncomfortable.
Then, elastic bands called O-rings are placed around these brackets which help exert the necessary pressure to pull your teeth together.
Additionally, archwires are added that connect the brackets and act by exerting pressure on your teeth. These can be either metal or ceramic, depending on the braces of choice.
If your teeth are too close together, coil springs can be added to the archwire to help press your teeth apart.
Lastly, a buccal tube is added to one of your molars which anchors the braces into your mouth. This can be loosened or tightened following your presentations during your follow-ups.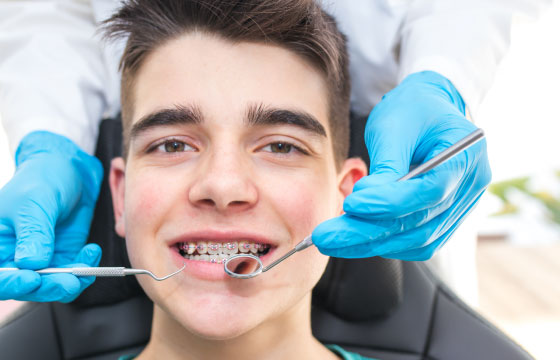 How Much Does Orthodontic Treatment Cost In Sydney?
On average, braces in Sydney cost anywhere between $8,000 and $15,000 dollars for the full course of treatment.
At Sky Beauty Cosmetic Clinic, we understand how that value can come as a financial burden for some, which is why we not only offer unbeatable prices, but also a flexible payment plan to help you pay for your treatment comfortably.


Improving teeth alignment can substantially
improve your confidence and dental hygiene.
After your orthodontic treatment with us, you will walk out of our clinic for the last time with a brand new smile to show off to the world.


At Sky Beauty Cosmetic Clinic, we approach all conditions comprehensively and apply the newest and most innovative treatments tailored for individual care.
With our network of specialists providing a 100% customer satisfaction rate, we guarantee that you are in safe hands.

Some of the most commonly asked questions about orthodontic treatment are answered below: