What Does Laser Tattoo Removal Involve?

Our experts will be able to permanently remove any unwanted tattoos using the newest state-of-the-art tattoo removal laser technology in Sydney. In turn, we promise to leave your skin healthy and undamaged, restoring the essence of your natural beauty.
The best part?
We offer unbeatable laser tattoo removal rates for our Sydney patients. It seems only fair that a procedure that has the potential to restore confidence and professionalism should be affordable to many.
So why not come down, arrange a consultation, and find out why we are the best laser tattoo removal in Sydney?
Tattoo removal is not simply just the removal of an unwanted tattoo, but in fact, it includes restoring your skin's natural beauty, enhancing your confidence, and giving you the opportunity to start fresh by getting rid of unpleasant memories.
Laser tattoo removal is safe, effective, and takes half the time it took for you to get the tattoo.
Tattoos naturally fade over time. This is because our bodies react to the ink as a foreign substance and begin working on removing it from the body. Laser tattoo removal helps speed up this process by breaking down the tattoo ink particles into smaller fragments that are easier to remove.
We apply multiple treatments using heated lasers to target the deepest part of the skin where the tattoo ink resides. Although heated treatments are known to cause tissue scarring, by using new and innovative tattoo removal methods we are able to minimize scarring and ensuring your skin is restored to its original natural look.
Can Laser Remove
A Tattoo Completely?
In order to completely remove a tattoo, you will need anywhere between 5 and 10 treatments, and even possibly more, depending on the features of the tattoo. During your consultation, our experts will look at:
How dark your tattoo is
The location of your tattoo
Colours used in the tattoo (colours are more difficult to remove than black ink due to the depth needed for the ink to be in your skin)
The colour of your skin
How recent your tattoo is
Although it is possible to completely remove a tattoo, certain variables limit our ability to obtain complete removal. In order to find out if your tattoo is guaranteed to be completely removed, we urge you to arrange a free consultation with one of our experts today.

Benefits Of Laser Tattoo Removal

There are a variety of advantages that come along with tattoo removals, most of which involve the non-surgical nature of removing tattoos. These advantages and benefits are as follows:
No scarring – Most invasive surgical treatments for tattoo removals such as surgical removal or dermabrasion can result in significant scarring. Using a pulsating Q-laser, we cause minimal damage to your skin leaving you with no scarring.
Rapid recovery – Once you had had a session of laser tattoo removal in Sydney, you only need to protect the area from UV lighting for a few days.
Effective – Laser tattoo removal has proven to be exceedingly effective and is now the most popular form of tattoo removals.
Safe – Laser tattoo removal is very safe, especially when compared to surgical methods. With a minimal risk of infection and very few side effects, there is not much that can go wrong using this method.
Types Of Laser Tattoo Removal
There are three main types of lasers used in laser tattoo removal: Q-switched ruby laser (694 nm), Q-switched Nd: YAG laser (532nm 1064nm), and the Q-switched alexandrite laser (765nm). Each of these lasers has a unique use.
Both the Q-switched ruby laser and the Q-switched alexandrite laser are mainly used for the removal of tattoos with darker colours such as black, blue, and green. The Q-switched Nd: YAG 532nm is used predominantly for the removal of red ink, and the 1064nm Q-switched Nd: YAG laser is used for black and blue ink.
In order to establish which of these lasers we will be using, our experts will first assess the profile of your tattoo to determine which colours are in deepest, and which lasers are best used for them.

How Does Laser Tattoo Removal Work?

At Sky Beauty Cosmetic Clinic, we are heavily invested in making sure that we provide the best possible treatments for you. This includes us using world-leading technologies and state-of-the-art techniques to ensure we remove even the most stubborn of tattoos.
Firstly, we shave the area that is to be treated and apply a numbing gel. We then use a handheld laser device that fires pulsating waves of laser applicable to your tattoo, that penetrates your skin deep enough to tackle tattoo ink in the deepest parts of your skin.
We simultaneously use a specific cooling system to help minimize the pain and swelling to ensure a stress-free tattoo removal experience.
Your session will not be too long – depending on your pain threshold and the size of your tattoo. You will then need to come in for subsequent sessions until the complete removal of your tattoo is established.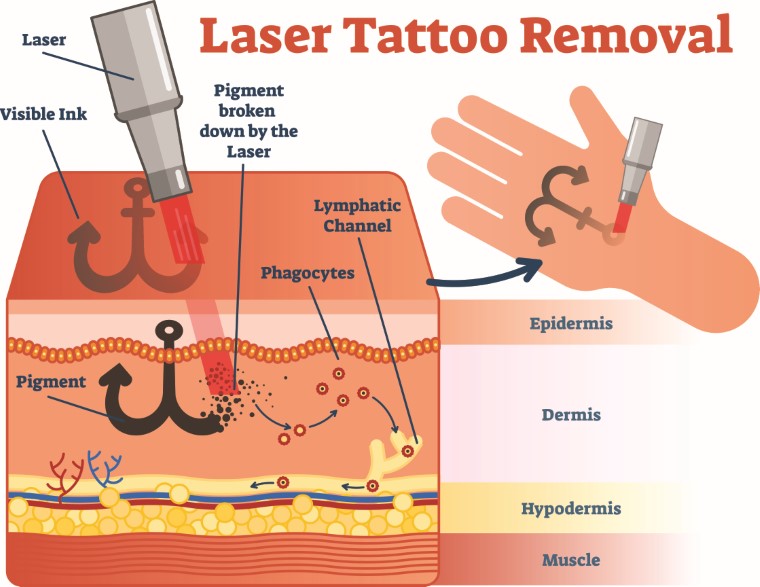 How long does it take to remove a tattoo?

A laser tattoo removal session in our Sydney clinic takes anywhere between 10 minutes to 45 minutes depending on the tattoo that is being removed. Once the session is over, you will need to follow appropriate after-care advice and come back for further sessions until your tattoo is removed. You can expect anywhere between 3 and 10 sessions for complete removal.


Using specialists techniques we can ensure effective tattoo removal with minimal pain.
Our specialists can utilize their techniques to remove tattoos of any shape and size, anywhere on the body.
With a 100% customer satisfaction rate, you can be sure that your tattoo will be removed efficiently, allowing you the chance to start afresh.

How Much Does Laser Tattoo Removal
Cost for Sydney Patients?

Laser tattoo removal can cost anywhere between $90 to $220 per session in Sydney. We guarantee to beat any price you have quoted here at Sky Beauty Cosmetics. We tailor all treatments individually and make sure that the quoted price is tailored to your treatment plan.
Additionally, you can opt for a flexible payment plan to allow you to pay for your treatments over time, reducing the stresses that may arise from making larger upfront payments.


Here at Sky Beauty Cosmetic Clinic, we pride ourselves on providing treatment from certified specialists in the convenience of the Sydney CBD area. With guaranteed individualised treatments, 100% customer satisfaction, and flexible payment plans, we are simply the best all-around cosmetic clinic in Sydney.

Below you'll find some of the most common questions answered for your convenience.