Finally, a new and innovative treatment has been produced to tackle the issues surrounding surgical downtimes! Infini skin needling in Sydney is a procedure that uses microneedling techniques along with radiofrequency to help tackle signs of aging.
Infini skin needling is a treatment that combines the art of microneedling with the use of radiofrequency energy to help rejuvenate the face. This works by stimulating collagen production to help the face heal itself.
Infini skin needling treatment can be used for a variety of reasons such as:
Treating acne scarring
Reducing wrinkles
Improve sagging skin
Enhancing facial skin tone
Overall skin rejuvenation
What are the Benefits
of Skin Needling?
Microneedling or skin needling alone has been widely used as a beneficial procedure to help produce effective facial rejuvenation results.
However, using the Infini skin needling combined with radiofrequency energy, we can target deeper layers of the epidermal tissue without damaging the surface.
Additionally, your cosmetic expert can also adjust the depth of the penetrative force of the needles to target the specific layers suited to your presentations.
Microneedling is a minimally invasive procedure and so there is a reduced risk of Hyperpigmentation – producing patches of darker skin. This makes it an ideal procedure for darker skin tones.
The other benefits that come as a result of the Infini skin needling technique:
No skin burning regardless of a large amount of energy used
Tissue volumisation without damage healthy fat cells
Safer than laser
You can resume all normal activity within one day of treatment
Stimulates your body to heal itself


There are three main types of microneedling offered to help rejuvenate the face. Each of which comes with its own host of benefits.
Microneedling
Microneedling is the use of a device embedded with many fine needles that are repeatedly pushed in and out of the skin causing micro-injuries. This stimulates the body to repair the tiny punctures by producing more collagen and elastin.
Microneedling has been used for many years as a leading dermal treatment to restore the body's fine lines with little impact on skin pigmentation.
Vampire Microneedling
This method combines the use of microneedling with a procedure known as PRP – platelet-rich plasma. PRP involves drawing and centrifuging the blood with a plasma-rich protein which is then incorporated into the skin needling treatment.
Although this process results in more bruising and a longer downtime than the latter, it is effective in those with deeper skin injuries and scarring.
Infini Skin Needling
Microneedling with the use of radiofrequency energy is known as the Infini skin needling technique. Using FDA-approved machinery, we use a matrix of small needles alongside radiofrequency energy to penetrate deeper layers of the epidermis without damaging the skin. This is beneficial for those who want to treat the signs of aging but also achieve a tighter skin complexion.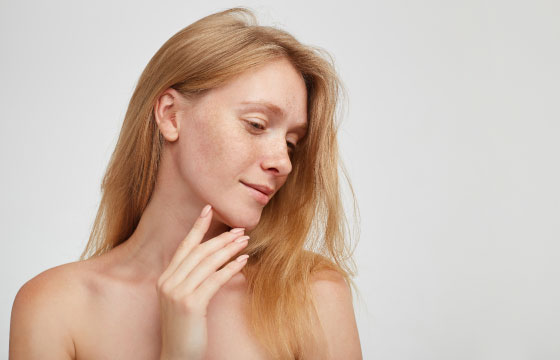 The Procedure: What does Infini Skin Needling Treatment Entail?
As specified, we use a host of tiny needles – 49 in fact – that conduct various radiofrequency energy into the dermis and epidermis.
It is a non-surgical method used to help stimulate collagen induction therapy through various micro-injuries.
During your procedure, you will feel very little discomfort and pain. Your cosmetic expert will move the needles across your skin, evenly, to produce even skin rejuvenation.
Prior to your procedure, your cosmetic specialist will use a numbing cream to help reduce any pain or discomfort. All in all, your procedure should last a maximum of 30 minutes.

Face Slimming Injection Before And After Images 

Results are seen gradually using our specialized treatments, with full results seen around 6 weeks.
Depending on your skin, once our treatments are complete your collagen produced can last for up to 7 years.
Using our Infini skin needling treatment we can tackle all those scars caused by acne.


In order to find the best skin needling in Sydney, it makes sense to visit the Sky Beauty Cosmetic Clinic. Not only do we approach each case comprehensively, but we provide treatments suited to the individual.
Using our state-of-the-art equipment, our cosmetic surgeons in Sydney can attend to any cosmetic issue you may be having. We pride ourselves on our 100% customer satisfaction, and we provide flexible payment plans to allow you to pay for your cosmetic procedure at your own comfort.
How Much Does Skin Needling Cost?
Skin needling costs vary in Sydney depending on the area which needs the treatment. On average, skin needling in Sydney costs anywhere between $100 to an excess of $500 per session.
At Sky Beauty Cosmetic Clinic, we strive to provide you with competitive costs and pricing. However, in order to get a true sense of your procedure cost, we recommend you arrange an appointment with one of our cosmetic specialists who can give you an accurate breakdown of what you will need.

Some of the most commonly asked questions regarding skin needling are found below.