Eye Bag Removal in Sydney Using
Fotona 4D Pro Laser Treatment

Many people are concerned about their under eye bags because they are majorly a cosmetic concern, which can occur for a variety of reasons. Fortunately, eye bag removal Sydney can be done using Fotona 4D Pro laser treatment, which is readily available at Sky Beauty Cosmetic Clinic.
Fotona 4D pro laser treatment uses a non invasive, non surgical method to remove under eye bags and restore the youthful appearance of the face.
Are you looking for the best treatment for under eye bags?
In Sydney, there are several treatments for under eye bags, but at Sky Beauty Cosmetic Clinic, we offer one of the best treatments, which include:
Lower blepharoplasty, a cosmetic surgery performed at Sky Beauty Clinic to remove excess under eye tissues that cause eye bags. This is done to give a smoother under eye and a more youthful appearance.
Following a consultation with a cosmetic surgeon, a procedure known as skin pinch technique may be recommended for individuals with less noticeable under eye bags, in which the excess skin is actually pinched and removed, rather than the fat beneath the eye.
Laser treatments to resurface the skin of the lower eyelid can also be used to manage under eye bag. This does not, however, remove excess fat or tighten the skin around the eyes.

Can under eye bags be removed?

Under eye bags are typically a cosmetic problem, and surgery is one of the most successful treatments for them. A lower eye bag removal surgery is an outpatient procedure in which a cosmetic surgeon removes or repositions the fat in the lower eyelids and tightens the skin and muscles to produce a smooth look.
Lower blepharoplasty is typically effective in removing bags under the eyes entirely. Actually, you can completely eliminate under eye bags and create a brighter and more youthful appearance.
Is there a surgery to get rid of bags under eyes?
Lower blepharoplasty is a surgical technique for removing bags under the eyes.
Lower blepharoplasty, also known as eye bag surgery, is a cosmetic procedure. This procedure helps to remove excess tissue from under the eyes by lifting the lower eyelids.
How do you get rid of bags under your eyes?
The removal of under eye bags may be assisted by a range of therapies, ranging from home remedies to surgical procedures.
While home remedies and over the counter medications may help minimize bags under the eyes, they do not eliminate them completely. Medical procedures are normally very successful in permanently removing under eye bags.
Some of the treatments for bags under the eyes include:
To help with dark circles and bags, place chilled caffeinated tea bags under your eyes. To do so, first brew your tea for a few minutes and then chill the tea bags in the freezer for 20 minutes. Apply to closed eyes for 15 to 30 minutes after squeezing out any excess liquid Caffeine contains beneficial compounds that can help to increase blood flow to the skin. It also has the potential to protect against UV rays and slow down the aging process.
Applying a cold compress to the affected areas, such as a chilled spoon or cucumber, or a bag of frozen vegetables, will help to constrict blood vessels quickly. However, this is just a temporary solution.
Wearing a sunscreen can also help you get rid of under eye bags and dark circles.
Non-surgical laser resurfacing uses a laser to dissolve wrinkled skin under the surface areas of the eyes while also stimulating the development of new collagen and firmer skin.
Eye bag removal surgery is another choice for getting rid of bags under the eyes. Following a consultation and appointment with a doctor, this technique helps in the complete removal of eye bags.

What causes under
eye bags?

The following are some of the causes of bags under the eyes:
The tissues and muscles that support your eyelids weaken as you get older, causing the skin around your eyes to sag and the fat that is normally around your eyes to migrate to the area below your eyes.
Lack of sleep is another factor that contributes to under-eye bags.
Retained water from eating a lot of salty food, which in turn leads to swelling under the eyes, can make your eyes appear puffy or swollen.
Swelling and inflammation from allergies can also intensify eye bag puffiness.
It is likely that under-eye bags are a genetic feature that runs in your family.
Eye bag puffiness can also be caused by some medical conditions, such as thyroid issues.
Dehydration is a side effect of drinking alcohol, and it can trigger bags and dark circles under your eyes.
Smoking lowers the levels of Vitamin C in your skin, which makes you more susceptible to wrinkles, under-eye bags, and dark circles. Vitamin C is essential for the production of healthy collagen in the skin.

What is the procedure to get rid of bags under your eyes?

The operation to remove eye bags is an outpatient procedure in which the surgeon works
to smooth the skin around the eyes. The following steps are included in the procedure:
A consultation with a cosmetic surgeon to address the needs and the best technique to get rid of bags under your eyes for all patients, is typically the first phase in the process for eye bag removal.
Your cosmetic surgeon will administer either a general or local anaesthesia as the first step in the surgery procedure. Local anaesthesia actually numbs the eyes to prevent you from experiencing any discomfort throughout the surgical operation and keeps you conscious during the cosmetic surgery, while general anesthesia allows you to be fully unconscious and unaware of what is going on during the procedure.
Before making an incision just below or within the lower eyelid, the surgeon will mark the eyelids of the patients. The surgeon will ask you to sit up so that they can see your eye bags clearly.
Your doctor will remove any extra tissue or fat from the area under your eyes, and stitch the skin back together to give you a more youthful look.
Even though you need to get your stitches removed within one week of surgery, the outcomes of the procedure will progressively become evident as the bruising and swelling from the surgery fade during recovery.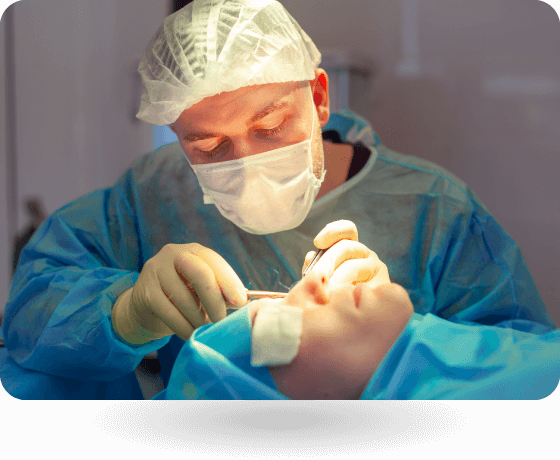 What is the best under eye bag surgery in Sydney?

Eye bag removal surgery has progressed significantly over the years, as many patients pursue surgical procedures to achieve a more vibrant, natural, and youthful look.
Eye bag removal surgery is a delicate operation that can only be undertaken by experienced surgeons. Fortunately, we have the best hands at Sky Beauty Cosmetic Clinic, with years of training and experience ready to assist you in achieving a perfect youthful look.
Because of the structures around the under eye, the surgery involves a detailed approach to smoothen the under eye area and make it appear less puffy. As a result, we use the most modern techniques and procedures to offer the best under eye bag removal surgery in Sydney to all of our patients.

How much does under eye bag removal cost in Australia?

Cost of under eye bag removal surgery can be a concern in some cases, that's why at Sky Beauty Cosmetic Clinic our main priority is to ensure this procedure is affordable to most of the patients without sacrificing the quality of the treatment.
Having said that, the cost of under eye bag removal surgery is generally determined by your specific needs and the treatment that is most appropriate for you.
Fortunately, at Sky Beauty Clinic, you can get a personalized price quote, starting from $2000.

How does under eye bag removal surgery work?

If you are ready to proceed, the next step is to understand the treatment and how it works. So, you are prepared once the surgery day comes. The good news is the under eye bag removal surgery is a relatively minor procedure that works by removing excess skin, tightening muscles, and sewing the skin under the eyes back together to give the face a more refreshed appearance.
The surgical techniques commonly used in under eye bag removal surgery include:
Transcutaneous: An incision is made just below the lash line on the lower eyelid in this procedure. A small amount of fat is elevated and excess skin and fat are trimmed during this process.
Transconjunctival: Since the incision is made inside the lower eyelid, there is no scarring following surgery with this technique.
Some potential risks and side effects attached to under eye bag removal surgery include:
Double vision
Bleeding
Drooping under eye lid
Skin discolouration
Infection
Numbness
To proceed with the treatment, the next step would be to schedule a Free consultation with one of our surgeons. To do that, simply click here and we'll take care of all the rest.
Frequently Asked Questions

For answers to questions that most of our patients ask during the consultation, this section is a must read.